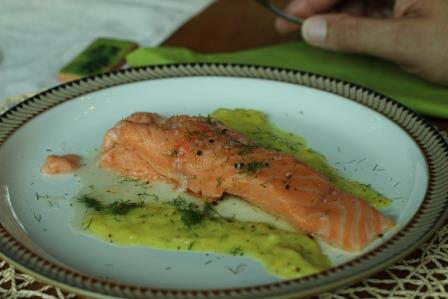 INGREDIENTS:
4 salmon slices of 200 g each
8 fresh spring onions
turmeric powder
fresh thyme
extra virgin olive oil
white pepper
PROCEDURE
Vacuum packed salmon slices taking care to keep them detached; if the salmon has not gone into a blast chiller, freeze it at -20°C for at least 3 days. Fill the Gourmet SOUS-VIDE tub with hot water until the heat sensor is covered, soak the salmon by removing it directly from the freezer without defrosting and program 38°C for 3 hours and 30 minutes.
Cut the spring onions lengthwise and let them stew in the pan with oil over very low heat for at least 20 minutes. Put the mixture in the Bamix glass, add turmeric powder, thyme and blend until a thick cream is obtained. When cooked, serve the salmon decorated with spring onion coulis and finely ground with pepper.
The mi-cuit salmon will have a surprising consistency and will still be cooked even if the temperature used is very low; it does not need salting. If it is preferred more cooked, the temperatures to be used are between 38°C of the "rare" and the 48°C of the "medium rare".
Great "obstacle" of all diets, the vacuum cooked white fish radically changes its nature of tasteless food to become the true exaltation of fish. Cod, mullet, sea bass, sea bream and red snapper regain
their rightful place on our table away from frequent cooking errors due to excessively high temperatures, boiling that removes taste from the meat and prolonged exposure to heat that make it stubbed.
The cooking temperature must remain below 65°C to prevent the coagulation of the albumins and leave the meat delicate, consistent and never stringy.
Both whole fish and filleted fish can be cooked under vacuum. The whole fish, but opened in the middle only without the central bone, is still preferable because once cooked in a vacuum, and left to stale in the bag, it will be easily cleaned with the hands and the fillets will remain whole; in this last case 60°C will be more than enough. The cooking time varies with the thickness of the food, from 2 hours for 2 cm. 4 hours for 6/8 cm thickness. The cooked fish under vacuum almost does not need salting, the natural flavor, not being dispersed, will stand out in an amazing way.